What kind of painter are you? Explore your options in AAC's classrooms!
Are you the kind of painter who needs structure and formulas? Are you a beginner who wants to learn all the rules? Or do you prefer to paint with abandon and emotion, disregarding formality in favor of process? Well, no matter what kind of painter you are, we've got the class for you!
You spoke, and we listened! For our 2016 summer adult session, we've added a new painting class to meet your formal painting needs!
If you don't know what we mean by 'formal,' keep reading, because we've defined it (and even shared a helpful illustration and fun video) below.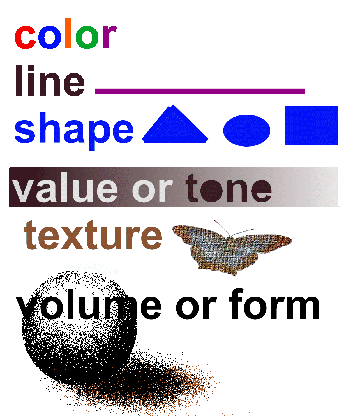 Every Tuesday night starting July 12 AAC Resident Artist and Instructor Hedieh Ilchi will give you an introduction to acrylic painting, covering the basics, and leading you through the fundamentals of canvas preparation, paint application, color mixing, and a variety of techniques.
On the flipside, we've still got a home for those painters who are process-oriented, expressive, and prefer to let the paint fly and fall where it may.
Every Wednesday night starting July 13, AAC Instructor Stephanie Lane helps you find a sense of place as you explore painting through oil and/or acrylic-based media. The type of paint used here will be the student's choice!
You probably have an idea what we mean by 'formal' but in case you're scratching your head over this one, it might be helpful to think of this as the building blocks of art making.
You've got your color, form, line, space, and texture. All of these are the visual elements of art, which are then arranged into a composition. Any element can be modified with visual effects or techniques to emphasize an idea or form.
This fun video will help you remember what these elements are and what they do!

In Hedieh's Intro to Painting class you'll learn about these elements, how to render them, and how they work to convey ideas, thoughts, or feelings through painting. This is a great way to strengthen or develop your skills.
Painters can spend years honing their technique! Once they feel confident in their skills some choose to work more experimentally. Some artists simply have more fun with a looser approach to painting.
And don't get the wrong idea, even in experimental painting you'll use formal elements, however, you decide what, how, and why to use them.
In Stephanie Lane's experimental class you'll be given the guidance and freedom to break all the rules!
This course offers less formal instruction and more guided studio time where acrylic and oil painters are welcome to play with paint, discuss progress and ideas with classmates, and try new approaches to art making.
We know everyone is different. Some people thrive on structure, while others feel confined by it. Creativity isn't a set of formal techniques or spontaneous processes, it's what you want it to be.
A blank canvas might scare the crap out of someone, where another person is drawn to it like a moth to a flame. At AAC you have the freedom to explore both sides of artmaking, and decide which method is the best for you!
Creativity isn't a set of formal techniques or spontaneous processes, it's what you want it to be.
As always, artists of all levels, from beginner to intermediate to advanced are welcome! You'll be challenged by your instructor and the coursework, no matter your level. Classes are small, giving you plenty of room to work, and plenty of time for one-on-one instruction. Small classes also bring classmates together. Happy hours, after-class meetups, and independent study sessions have all been reported as a side-effect of adult painting classes at AAC!
---
If you're searching for a painting class with a spontaneous and open format, sign up for Stephanie's Acrylic & Oil Painting: A Sense of Place meeting 
Wednesdays, Jul 13 thru Aug 31

.
Or if you find that formal guidance energizes your creativity, sign up for Hedieh's  Introduction to Acrylic Painting meeting 
Tuesdays, Jul 12 thru Aug 30

.
P.S. If you love to work in formality and spontaneity, there's nothing stopping you from signing up for both classes! We also have a Drawing class for those of you less interested in paint!